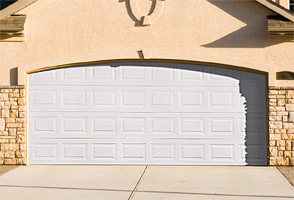 Our garage door model 180 features the strength of steel and a standard panel simulated wood grain embossment to enhance the appearance of your door. The polystyrene insulation provides a 7.8 R-value for a more comfortable garage and a vinyl backing for a finished appearance. A 20-year limited warranty on these steel garage doors means it is built to last. A wide variety of window options are also available for these steel garage doors.

Warranty
20-year Limited
Embossed wood grain texture
Adds beauty, sophistication and durability
Vinyl Backing
For clean interior appearance
Galvanized steel center stiles
For maximum strength and weight
Durable Finish
Hot-dipped galvanized steel with two coats of baked-on polyester paint
Bulb-type bottom weather seal
Guards against wind and rain while providing cushion when closing


Standard Panel


Insulation
Polystyrene insulation with an R-value of 7.8 for improved energy efficiency and sound reduction


Doors are available in five standard colors or can be painted to match your home's décor.
White


Almond


Desert Tan

Taupe


Brown


Standard Window Panels
Clear Short

Cascade 1

Madison 1

Sherwood 1

Stockford 1
Waterton 1

Williamsburg 1 (4 pc.)

Ashton 1

Cathedral 1

Ruston 1

Stockbridge 1

Stockton 1
Winston 1
Williamsburg 1 (8 pc.) Double Wide Doors Only
Long Window Panels
Clear Long

Cascade 2

Madison 2
Sherwood 2

Stockbridge 2

Stockton 8-Lite Arch
Wynbridge 2

Williamsburg 2

Ashton 2

Cathedral 2

Ruston 2

Somerton 2

Stockford 2

Stockton 10-Lite
Waterton 2

Williamsburg 4