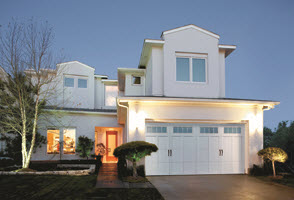 Insulated steel construction, fashioned to resemble the elegant wood designs of traditional carriage house doors. The beauty of wood, the durability of steel. Classic designs enhance the architectural beauty of your home. Broad selection of windows and hardware options. Energy-efficient: R-value up to 12.76. Up to limited lifetime warranty for as long as you own your home.
Features
Thermacore® insulation
CFC-free polyurethane insulation with Thermacore® construction provides an R-value of up to 12.76
In-between-section thermal seals
With an air infiltration rating of up to .08 cfm, seals provide superior resistance to the elements
Durable finish
Hot-dipped galvanized steel with two coats of baked-on polyester paint
Overlays sealed from elements
Specially treated trim boards resist weather, fungal decay and termites
Quiet operation
Commercial grade track and hardware featuring durable 13 ball bearing urethane rollers (160 Series)
Options
Colors
Doors, overlays and window trim are available in 6 colors.
Wind load
Can be fitted to meet wind load building requirements.
Select hardware
Further individualize your garage door with our distinctive decorative exterior handles and hinges.
Individualize with windows
Windows are available with non-insulated glass or insulated glass for maximum energy efficiency, and a variety of trim designs.
| Model | Panel Style | Insulation | R-Value | Warranty |
| --- | --- | --- | --- | --- |
| 161A | | polyurethane insulation | 12.76 | Lifetime Limited |
| 161B | | polyurethane insulation | 12.76 | Lifetime Limited |
| 161M | | polyurethane insulation | 12.76 | Lifetime Limited |
| 161T | | polyurethane insulation | 12.76 | Lifetime Limited |
| 162A | | polyurethane insulation | 12.76 | Lifetime Limited |
| 162E | | polyurethane insulation | 12.76 | Lifetime Limited |
| 162Z | | polyurethane insulation | 12.76 | Lifetime Limited |
| 163T | | polyurethane insulation | 12.76 | Lifetime Limited |
| 164A | | polyurethane insulation | 12.76 | Lifetime Limited |
| 165B | | polyurethane insulation | 12.76 | Lifetime Limited |
| 165T | | polyurethane insulation | 12.76 | Lifetime Limited |
| 166B | | polyurethane insulation | 12.76 | Lifetime Limited |
| 166E | | polyurethane insulation | 12.76 | Lifetime Limited |
| 166T | | polyurethane insulation | 12.76 | Lifetime Limited |
| 167B | | polyurethane insulation | 12.76 | Lifetime Limited |
| 167E | | polyurethane insulation | 12.76 | Lifetime Limited |
| 167T | | polyurethane insulation | 12.76 | Lifetime Limited |
| 168B | | polyurethane insulation | 12.76 | Lifetime Limited |
| 371A | | polyurethane insulation | 9.31 | 20-year Limited |
| 371M | | polyurethane insulation | 9.31 | 20-year Limited |
| 371T | | polyurethane insulation | 9.31 | 20-year Limited |
| 373T | | polyurethane insulation | 9.31 | 20-year Limited |
| 375B | | polyurethane insulation | 9.31 | 20-year Limited |
| 375T | | polyurethane insulation | 9.31 | 20-year Limited |
| 377T | | polyurethane insulation | 9.31 | 20-year Limited |